Ahmad Rezaei Javan
Resume
Ahmad Rezaei Javan, Member of the Board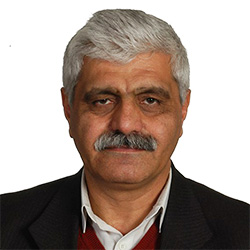 Ahmad Rezaei Javan
Position: Member of the Board
Education: Bachelor of Electrical Engineering, Sharif University of Technology, 1975
Executive Records:
Electrical Engineering Services Company (Mashanir) (1357 until now)
Consulting Expert
Transmission Line Manager
Manager of Nigeria and Uzbekistan Overseas Projects
Manager of Sistan and Baluchestan and Semnan Regional Project
Manager of Shahroud and Lar transmission Line Project
Manager Supervisor of 400 KV Neka-Hassan Kif
Standard Designer of 63 KV substations
Familiarity with technical and specialized laws and standards
Law on holding tenders and executive regulations,
Regulations on transactions of state-owned companies,
Standards for design and implementation of Tavanir, national and international transmission lines,
Directives related to price indexes, adjustments, differences, etc.
Key features and competencies:
Ability with over 40 years of experience in the design, monitoring and project management departments
Perform or manage all items related to air and ground transmission lines.
Participate in a number of projects that have been carried out for the first time in the country and appropriate information has been obtained in this regard, which can be used in case of emergency. Such as the following projects:
Fiber optic installation for the first time in Iran lines as well as implementation, monitoring the first implementation of fiber optic hot line and fiber optic installation by AD LASH method
Participation in the design and installation of the first 400 kV control line project in Iran (Isfahan – Surmaq 400 KV line)
Management and organization of design and implementation of 400 KV Tabas – Bafgh transmission line
with an unprecedented record of successful performance of 270 km of 400 KV transmission line during a period of 9 months, with the simultaneous employment of several contractors in four parts.
Participation in the design and construction of energy transmission tunnel in Isfahan.
Participation in the design and installation of the first Hormoz submarine cable.
Participation in the design and preparation of tender documents for the first 132 KV Kish submarine cable project
Membership in organizations, committees and professional associations:
Line and Privacy Studies Working Group Committee
Iranian Electrical and Electronics Association IEEE
Iranian Value Engineering Association
Insulator Engineering Committee
Insulation Committee
Letters of appreciation
Tehran Regional Electricity Company, 400 KV Vardavard Siah-Bisheh transmission Line, 2018
Iran Electricity Development Organization, 400 KV Lordegan Karun 4 transmission Line, 2014
Isfahan Regional Electricity Company, 400 KV South Isfahan-Lordegan Power Plant, 2013
Semnan Regional Electricity Company, 400 KV transmission Line Semnan Firoozkooh, 2013
Yazd Regional Electricity Company, 400 KV Yazd-South Isfahan transmission Line (AH 1), 2007
Isfahan Regional Electricity Company, 400 KV Isfahan Surmaq, 2007
Yazd Regional Electricity Company, 400 KV
Yazd-Kerman, 2005